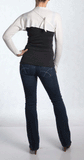 Sha-de
Sports Shrug - Cream
This is the essential handbag accessory. Carry it wherever you go. Perfect for sport. Tennis, Golf, walking and bike riding.
Made of super soft Merino to bring a bit of luxury to your day.
The double sleeve garment covers your hands, arms, chest and back.
Fabric ties to close at the neck. Find out how to wear it here.

Lightweight Soft Machine Washable Bamboo Jersey
SPF 50+  96% Bamboo 4% Lycra
Folds up into a bag 10cm x 15cm with pull cord and toggle.