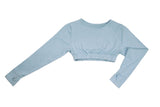 Sha-de
Handstand Undertop - Chambray
The Handstand Undertop is designed to wear under your daughter's favourite t-shirts, rompers, dresses and singlets to protect her shoulders, chest and arms from the sun. The Handstand Undertop is cropped to provide maximum coverage without needing to be tucked in. This design also provides a cooler option by avoiding the double layer of clothing. Also available in Orchid and Aquamarine.  
UPF50+ - Made in Melbourne - Machine Washable 
worth it, but design needs tweaking
I bought two size 4s for my two and four year old girls. The sleeves work wonderfully for them and the colors and material are nice. I'm taking off a star because the elastic is a bit tight even for the two year old (and my kids are small for their ages) and because the tags are big and itchy and sewn in such as way that removing them could tear holes in the garment. I recommend buying these, but I also recommend the company tweak the product for future productions.
Thank you for taking the time to provide feedback Heather, we will definitely take this into consideration for future designs.